Shandong sinchip Energy Technology Co., Ltd
Shandong sinship Energy Technology Co., Ltd., a national high-tech enterprise, is located at No. 777 Tangye East Road, Licheng District, Jinan City, Shandong Province. The products have complete independent intellectual property rights and more than 20 national patents. After hard work, they have developed into an enterprise capable of developing and producing megawatt-level high-power, intelligent, military and civilian power products that can provide complete solutions.
After technology accumulation and talent reserve, sinship has cultivated an excellent team composed of high-quality management talents and senior R&D talents, and has an industry-leading power electronic product technology, R&D, product manufacturing and service platform. Xinchi is committed to the perfect combination of technology and application engineering technology, and is committed to providing customers with the most competitive end-to-end integrated overall solutions, and is committed to creating competitive advantages for customers.
Sinship Energy's products involve AC and DC remote power supply systems, artificial intelligence special power supplies, high-end sewage treatment power supplies, medical special power supplies, AC voltage stabilized frequency power supplies, military power supplies, electric vehicle motor test power supplies, uninterruptible power supplies (UPS), frequency conversion Power supply, program-controlled DC power supply, inverter power supply, customized power supply and other fields. sinship is one of the well-known brands of AGV intelligent charging piles and marine power supplies.
Sinship Energy has signed a technical cooperation agreement with Shandong Academy of Sciences, and has reserved a large number of outstanding scientific research achievements, scientific and technological talents and rich resources for future development. Create a development platform of integrity and win-win.
SinshipEnergy will rely on its vibrant corporate culture, high-quality talents, advanced equipment, advanced technology and management to serve the society more fully and satisfactorily, not forgetting its original intention and achieving user value!
Expand More
Quality is the life of an enterprise
质量是企业的生命 !
Quality is the life of an enterprise, our self-esteem. Especially the power supply system, which regards the power supply as the heart of various electronic information products, must be foolproof. The "Comprehensive Quality Assurance" plan implemented by the company, in accordance with the requirements of ISO9001, has a complete management system in R&D, design, manufacturing, quality control and product sales, and uses product standardization and strict quality control to reduce human errors. . In terms of production and manufacturing, all of the company implements 24-hour aging operations to detect early failures early, reduce the failure rate of users in various stages of use, and improve product reliability. The company has first-class power electronic research and development equipment and production testing equipment, and strives to make the products perfect, so as to achieve the goals of various users in the field of power supply.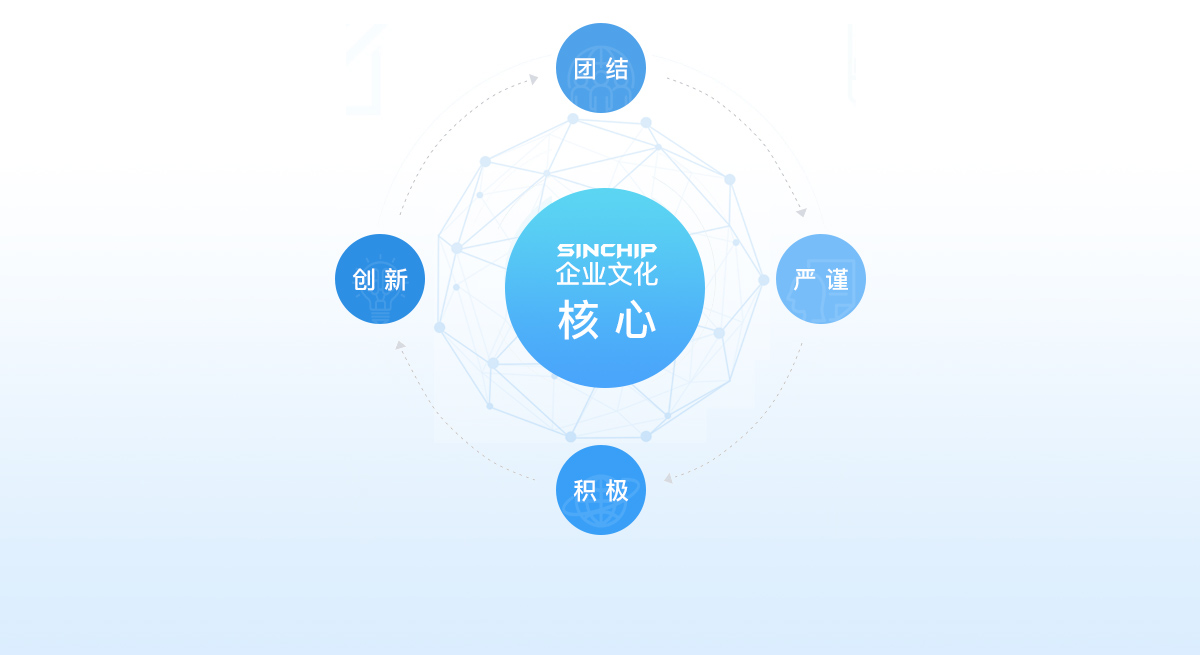 Unity, rigor, positivity, and innovation are the core of our corporate culture. We strive to enhance the cohesion and innovation awareness of all employees of the company, and form the values that the company and employees grow together and share a common destiny. Talent is the key to the success or failure of an enterprise. The company is committed to cultivating the best people, producing the best products and providing the best services. People-oriented, relying on science and technology, taking users as the center, and taking the development of the national power supply industry as its own responsibility, it not only provides high-quality products for the society, but also actively cultivates high-level talents engaged in the research, development and manufacture of power electronic products for the society. With the support of domestic colleges and universities and aerospace research institutes, the young, active and innovative SINCHIP people work in unity and lasting innovation to ensure the core competitiveness of the company and meet the steady, rapid and sustainable development.
"Customer satisfaction, our responsibility!" is our business philosophy. Win trust with sincerity, gain market by service, and provide users with reliable products and services. The national marketing service network formed by the company's offices in major cities tracks product quality throughout the process and provides users with detailed pre-sales technical support and perfect after-sales service. SINCHIP people believe that a hard work brings a harvest. Today, our efforts have achieved some results, but the more ambitious goals still need to be worked hard. In the future, Xinchi people will adhere to the existing business philosophy, continue to innovate, go abroad, contribute to the development of China's economy and technology, sincerely serve the world, and strive to become the world's top power electronic equipment manufacturer!